Everything You Need to Know about Goodsomnia
What is Goodsomnia?

For those with snoring problems, you know that there are a few typical anti-snoring devices that are usually available to you – masks, nose plugs, sprays, and tablets. Each of these can be uncomfortable and irritating to wear. Goodsomnia offers itself as a new way for you to stop your snoring. It is a muscle stimulator, which targets the soft palate. It strengthens and tightens it, so that when you breathe while sleeping it does not vibrate, and thus you do not snore. This activates new muscles, increasing blood flow, which opens your air ways, and stops you from snoring.
How Do You Use It?
The Goodsomnia is specifically designed for those who suffer from a mild case of sleep apnea, but it can also deal with snoring problems directly. There is nothing that is uncomfortable to use with this product. It is one of the most simple anti-snore devices that you can use. All you have to do is place it on your soft palate for 30 seconds, before moving it to the back of your tongue for 30 seconds. If you do this once a day for 4 weeks, your sleep apnea and snoring problems will be effectively gone.
Specifications
When you get this product, there are not many features or parts that you have to keep track of, nor will they confuse you when you try to use them. Goodsomnia comes with two sets of medical grade silicone balls that stimulate your soft palate and tongue. It has an advanced changeable head that makes it easy to replace the balls at the top. The up light gives you an easy way to see where you are placing the Goodsomnia, so you know you are placing it in the right spot. It has an automatic 30 second timer, which makes using the product even easier. It does not require batteries, but is charged with a micro USB.
Advantages
One of the biggest pros with using the Goodsomnia device is that it does not require any prescriptions from a doctor. There are no pills or medication to take in order to stop your snoring. You can take this without needing any kind of medical okay beforehand.
There is absolutely nothing that you have to wear with you to bed in order to use this product. Many anti-snoring products have you wearing some kind of uncomfortable mouthpiece or mask, which can hamper the quality of sleep that you get. Instead, use this before bed, and you are good!
The Goodsomnia app and smart watch can help you keep a track of not only your snoring, but your sleeping habits, and other health markers throughout the day. You can turn your attempts to prevent yourself from snoring into a compete health make over. The app is free for download, and the smart watch comes at an additional price.
You will be hard pressed to find an easier anti-snore device on the market. It takes you a minute out of your day, and only requires you to place a vibrating ball on your soft palate and tongue. There is nothing that is going to be easier, while at the same time being completely effective.
Disadvantages
While there are many advantages to this product, there are always going to be some disadvantages. The most important of which is that this product is designed specifically for sleep apnea, rather than snoring. While it does work for snoring, it is targeted more towards sleep apnea, and mild cases at that.
For those who have a strong gag reflex when they place things in their mouth, this product may prove to be slightly difficult. It does not require you to place it too far in your mouth, but it can be highly uncomfortable. Caution should be taken for those who have strong gag reflexes.
In order to continue using this product, you are going to have to replace the silicone balls several times. While the medical grade silicone material makes it more durable and safe for use, it does not make it immune to germs and replacement.
You have to ensure that this product is charged when you use it. It does charge with a USB port, but you must always remember to keep it charged before and after you use it.
Finally, and perhaps most importantly, Goodsomnia has not been approved by the FDA for commercial use. As such, it does not have the promise of safety that products that have been approved by the FDA have.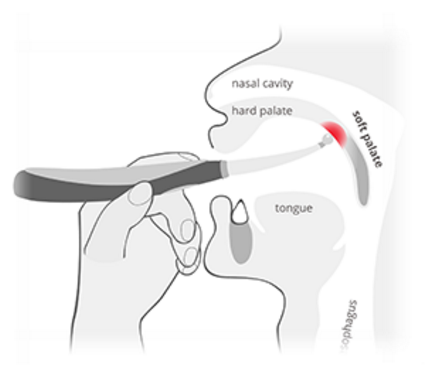 Indiegogo Campaign
Like many excellent product, this one has not yet reached enough funding to be sold on a large scale. The creators of Goodsomnia have created an Indiegogo fundraising campaign in order to fundraise the necessary money to begin sharing the Goodsomnia product with those all over the world. Currently, they have raised $12,154 out of their aimed for $25,000. If you choose to give money to their campaign, there are various perks you can receive, depending on how much you invest in them. These perks range from a virtual high five to a luxury kit including the Goodsomnia, the wrist band, mobile app, warranty, doctor consultation time, and more.
Overall
When looking at the Goodsomnia product overall, one cannot help but be impressed. With only 1 minute a day for 4 weeks, you can dramatically reduce your snoring, and effectively deal with your sleep apnea. It is easy to use, and uses the most innovative and high tech biomechanical medicine that we have today. It comes highly reviewed by those who have used it, and the company plans to continue to expand and share their anti-snoring expertise with everyone with snoring problems.