Have you Tried Invisible Nasal Strips Before?
WoodyKnows Advanced Nasal Dilators
What is it? 
The Advanced Nasal Dilators made by the company WoodyKnows are built to gently and effectively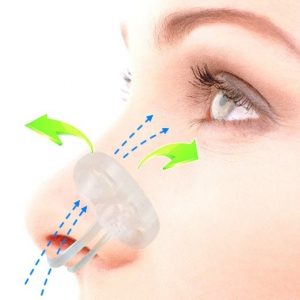 open up nasal passages from within in order to maximize airflow. They were created according to the natural shape of your nostrils for your convenience and for the best fit. They are made with soft FDA-approved plastic, and are Phthalate-, and BPA-free. They came with ultrathin dilators that enhance comfort while also avoiding impacting nose hair.
Based on my own personal experience with this product, its design actually accomplishes what it is designed to do. It gives its users that comfortable and cozy feeling that helps them sleep deeply and quietly.
Features Based on  Review:
Durable and Reusable

Ready to use - no preparation steps

No sticky, skin-pulling adhesives

Does not leave facial blemishes after removal

MULTI-SIZE PACK (S+M+L) for the first trial

Works the first time every time

Discreet invisible design

Advanced two-piece connected structure: the dilator rings are soft and gently fit in the nasal passages while the connector is firm and sits securely in the nose for fuss-free sleep.

Unique structure and slanted posture open the nose adequately

Ultra thin and super soft dilators for comfort and fit

Does not impact nose hairs

Drug-free relief is suitable for long-term use
Most of the critical review were based on its claim to be an anti-snoring product, even thought this device is first and foremost an efficient breathing aid. While this device does not completely eliminate snoring, it does effectively reduce snoring, while at the same time helping improve breathing while asleep. They are soft, comfortable, stay in place all night, and open up the nostrils well, which makes breathing very easy.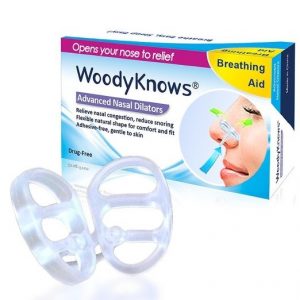 While the nasal dilators' ability to stay in place seems to differ from person to person,  I firmly believe that some people have a negative experience with this aspect because they picked a different size from the one that actually fits them.
At first, it may be a little uncomfortable in the nose, but after two or three days, you may not even realize that you are wearing them.
With the WoodyKnows Nasal Dilator, breathing is easier, as the airflow is more efficient, giving you not only a more comfortable sleeping experience, but a better night's sleep as well.
This product was able to surpass typical nasal strips, however in the following ways:
Sometimes they stick too well, and damage the skin when pulled off. Therefore, this process has to be done carefully.
They cost less than typical nasal strips

They are reusable, whereas nasal strips are not

The dilator fits the nose so well that people tend to almost forget that they have it in, and it doesn't interfere with sleep at all. The natural shape of the design is the key to this comfort.

The dilators are gentle and do not hurt the nose.

This product tend to go deeper in the nasal passage than other dilators due to its slanted structure, so that it can open the nose adequately without any discomfort.

The connector is firm but flexible while the dilators are soft and flexible, giving it an effective two-part connector system. The connector fastens firmly on the nasal septum while the dilators give the nose gentle and efficient support from within.

The connectors tend to break easily, because of its delicate form, and the dilator can get weaker with time. However, proper cleaning with warm water makes them more durable.
Conclusion
WoodyKnows Advance Nasal Dilator is an effective and comfortable product, made to relieve the nose, and make breathing easier and more efficient. This device is very successful at its purpose, using its unique features to give a whole new meaning to comfort to anyone with nasal congestion, sinusitis, and many more common nasal problems, including snoring. I would sincerely recommend this to all those who need a proper breathing aid.
In comparison with other nasal strips, I firmly believe that this product is worth the money and a trial run, with the current cost coming in at $14.23. Its advantages over other dilators of its kind are numerous, and are a better alternative to nasal strips.